Home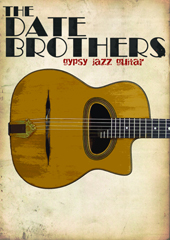 From a gypsy campfire to the lowdown bluesy sounds of New Orleans to the South American street party to the sophisticated inner city salon;
The Date Brothers happily invoke these sounds and styles and play in a virtuosic manner on their acoustic guitars.
Latest recording is available online at http://date brothers.bandcamp.com
A selection of tunes from Johann Sebastien Bach to Bud Powell. Music spanning 300 years from North and South America, France, Scotland and Norway performed by this Australian trio. The emphasis is on original arrangements rendering beautiful melodies and improvisations played with passion and great style on acoustic guitars and double bass. Ian is playing original Selmer guitar #861.
Ian Date – guitar
Nigel Date – guitar
Howard Cairns double bass
Sign up to the newsletter to get the latest news from THE DATE BROTHERS.
See ya on the road.
CLICK HERE TO DOWNLOAD PUBLICITY PACK (30.mb .zip file)
CLICK HERE TO SEE OUR YOUTUBE CHANNEL